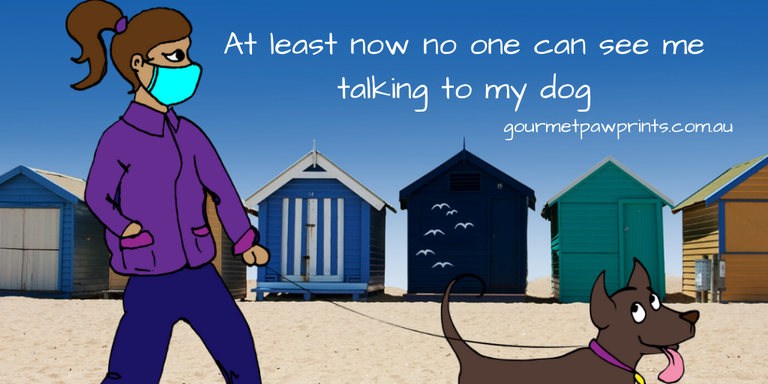 As we enter a new era of compulsory face masks in Melbourne, we are sure you are wondering what impact wearing these will have on a dog's ability to understand these new 'bandit' faces we show. Just for the record we are not for one moment suggesting not to wear them – as a small tourism business, we certainly understand the need to pull together to get through this. On the upside, at least no one can see us talking to our dogs now!!!
So what is the impact of face masks on our dogs?
Dogs have what is called Left Gaze Bias which is a scientific way of explaining  (by Cherry HERE) , the left side of the brain is  responsible for controlling the right side of the body and conversely with the right brain hemisphere. This means that dogs are looking at our faces as a means of understanding our words, in particular the right side of our face where our emotions are displayed.
A detailed study conducted by Guo et al HERE  in 2008, on domestic dogs, rhesus monkeys and humans determined that dogs demonstrated a left gaze bias towards human faces. The left side of the brain controls how emotions are displayed on the right side of the face. A left gaze bias according to means looking at the right side of the face to gather information about a person's emotions.
So what does this mean for Melbourians? Well, we should be conscious of meeting and greeting new dogs whilst wearing a face mask. They may feel stressed at not being able to 'read' our emotions. Whether this affects our own dogs will probably be determined by the tone in our voice whilst communicating with them. The harsher the voice, the more the dog will look for other signals to understand our emotions and the less they will be able to see our faces.
So what can we do to support all dogs while these 'bandit' faces are around?
When wearing a face mask consider;
• Give dogs some space
• Speak calmly in a voice that does not scare them
• Do not go up to a dog who maybe waiting outside a shop for their fur-parent. This is stressful enough without a face mask, they are tethered and cannot greet freely.
• Let dogs use their primary sense of smell to understand their surrounding.
• Watch for their unique signals to let you know how they are feeling and respect their space.
• Do not reach over their heads to greet them, this is very confronting for dogs, regardless of face masks.
If you would like to learn more about a dog's unique signals, which is a whole language beyond the standard tail and ear positions, then check out The Dog Couch HERE.  specifically designed for fur-parents to understand a dog's language.