Finding the pawfect dog friendly activity in Melbourne to enjoy on the weekend can be challenging. Often, we just resort to activities like going to the same dog park because everything else is too hard. There might be dog friendly pubs or cafes, across Victoria but the uncertainty of who the other dogs will be and whether your dog will OK plays in the back our mind and it seems all too hard. Despite the continuing rise of places welcoming dogs, it can be time consuming to do the research and then get a group of friends together with their dogs.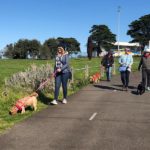 Well dog friendly activities just stepped up a notch with Dog Friendly Experiences from Gourmet Pawprints. Over 6 years ago, Gourmet Pawprints started Doggy Winery Tours to regional Victoria to offer fur-parents and their much loved fur-family, days out without any of the hassle of planning and uncertainty, it is all taken care of with the award winning attention to detail, Gourmet Pawprints is known for making for a simply pawfect day! This is so much more than just dog friendly activities, it is a day of being with your bestie!
Since then, we have designed many other dog friendly experiences, like Paws and Pours High Teas, Doggy Treks, Doggy Picnic Adventures, Doggy Walking Tours and the all important annual Truffle Hunts.  Each experience is carefully designed so all you have to do is put your paws up and enjoy the day.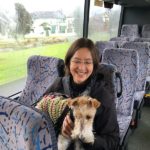 We have done all the research and we chauffeur you and your pooch on Bella the Dog Welcoming Bus, so even the transport is taken care of. Whether you fancy a dog friendly day out in Melbourne or getting out and about into the beautiful scenic regions of Victoria, we have a boutique experience ready for you.
We often get asked 'is my dog going to be OK'? The answer is most likely 'YES'. The team are trained in dog behaviour and communication, making a point to understand each dog and their special quirks that makes them the individuals they are. Every tour is designed around Our Philosophy of providing a Happy, Healthy and Safe  experience.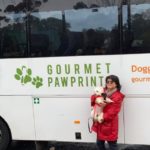 From the moment you book, we ask you about your dog, so we can get to know them in advance. Maybe they do not like to be too close to big dogs, that is OK, we carefully arrange a seating plan on Bella the dog welcoming bus to ensure there is plenty of space and the pooches get the window seat. This makes it more comfortable for them to have their own area where they can just gaze at the passing scenery.  Bella is a 45 coach style bus, so with a maximum of about 12 dogs and their fur-parents there is plenty of space for everyone. Bella is fitted with both human and dog seat belts, is climate controlled and has a dedicated first aid station, loads of water, extra leads, collars and harnesses and even a gift trolley for all the necessary pooch accessories.
Bringing 12 dogs together for the first time and travelling on Bella comes down to careful and experienced planning and yes a few must haves! All dogs must be desexed and vaccinated to a Canine Level 5 vaccination, which includes the annual canine cough. Yep, that is the flu jab for dogs and just as with humans they have to get it yearly. The desexing part is to make for a relaxed space inside Bella, where as we know scent is a very important way dogs communicate. Entire dogs can give off a different scent which can cause friction for those who have been sterlised, so this is our way of creating a happy space on Bella.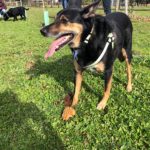 When you book we will send you a Getting Ready For Your Tour email, which explains where we meet, what to bring and this is where you will tell us about your dog, their vaccination date and desexing and if the humans have any dietary requirements, special needs or celebrating an occasion. We know some folks do not like filling out forms however without this important information, we could not deliver our experience with the care and dedication we are known for.
Don't believe us read our Trip Advisor Reviews – here is what Tilly thinks of her outings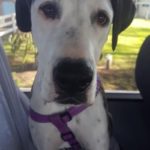 "The Pawfect Experience – You will not find a more perfect experience for any dog lover! Having just attended our 10th Gourmet Pawprints adventure and another three already booked for 2019, we just simply keep going back for more. Tilly and I have been on Winery Tours to the Mornington Peninsula three times, the Yarra Valley Winery Tour both the Melba and Yarra Trails a total of four times, a Winery Tour to the Dandenong Ranges once and two Truffle Hunt Tours. This is a testament to Kerry and her thorough planning as the tour routes regularly change allowing us the opportunity to continue exploring all that Victoria has to offer. We absolutely love the Gourmet Pawprints experience and cannot thank Kerry and her wonderful team enough for providing us with the opportunity to share so many wonderful adventures with Tilly. It's simply wonderful and a must for all those who love dogs, regardless of whether you have a dog or not, you need to experience Gourmet Pawprints. It's pawfect!"
This is not a case of randomly popping everyone on the bus and scooting down the freeway. When you arrive, we will take your bags (yep, we can spot our first timers or we like to say "Bella Virgins" with their heavy back packs full of water, treats, jackets etc and then when they return another day, we find they area only carrying a coffee and lead, they just know we have everything else sorted!).
The meeting point in Port Melbourne has all day free parking, toilets, dedicated bus parking area and an off leash beach. After we have greeted each person individually, we do an essential dog socialising activity so the pooches can get use to each other and we can observe if we need to add a bit more attention to anyone. This is one of the reasons we do not do 'pick ups' along the way. Dogs main communication tool is their nose and they need to get familiar with the scents of the other dogs. This activity is done on lead in a controlled and professional manner with our talented Dog Carers leading the way. Once the pooches have all been introduced, there is time for some off leash beach fun and then all aboard Bella.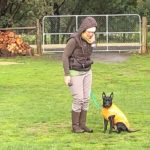 So the next time you are grappling with a dog friendly activity for your beloved dog this weekend, why not take the lead and join in the fun of a Gourmet Pawprints Pawfect Dog Friendly Experience.