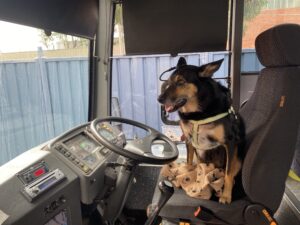 As Bella the Dog Welcoming Bus finally gets to spin her wheels again, we thought it might valuable to explain a little about what happens behind the scenes to make our Dog Friendly Experiences Happy, Healthy and Safe – Our Philosophy!
Being able to get out and about in Victoria exploring new places, crafting new tours and meeting like minded venues, is a real joy. We do take a lot of pride in making sure the day is great experience and that means having fabulous venue partnerships.
Our tour preparation starts the moment you make your booking. We are off and running to make sure venues can accommodate dietary requirements, checking your dog's Veterinary details and reviewing the comments you provide about your dog and their needs. All of this is possible because we have a Guest Details Form which we ask to be completed within 3 days of your booking. If the Guest Details Form is not completed and we need to follow up, this can take up quite a bit of administration time and in some cases places the ability for the tour to proceed in jeopardy as we have not been able to verify your dog is able to attend.
In the week of your tour date, we are now in 'let the fun begin mode'. Bella is being cleaned, we are sending you a Getting Ready For Your Tour email, a seating plan is designed to accommodate dog sizes, preferences and space and the team are now learning about all the individual pooches who are coming along.
On the day of the tour, Bella goes through her final paces to make sure she can do her part and provide a safe experience and we have all the equipment on board that we need. Including the important emergency Vet maps for each location we are attending so just in case you want to test our Canine First Aid qualifications, we know we have the expert Vets close by.
With over 7 years experience now, we know how important it is for the dogs to have a bit of time to 'meet and greet' their fellow guests and that is why our dog socialisation activity at Port Melbourne is so important. We thank you for arriving in time for this activity to occur in a calm and efficient manner.
It is a bit of a process however it is done with care, passion and dedication to making your day the best possible experience.
We know first hand how challenging 2020 has been and the number of times we have needed to cancel tours and transfer guests and the flow on impact to our venue folks, team and guests. Completely unavoidable and absolutely necessary to ensure the health and well being of everyone.
By offering a wide choice of tours, Gourmet Pawprints interacts with a significant number of venues and suppliers, each with their own limitations and challenges to make their business prosper again. We want to be able to respect and support all the amazing venues and work with their individual needs as best we can, after all to use a well used phrase "we are all in this together". This involves working with their terms and conditions, cancellation time frames, booking lead times, seating capacity/times and their need to potentially put on more staff to manage their Covid restrictions.
Whilst it was a relief to finally get the 'go ahead' to operate on 23 Nov 2020, let's just say we had multiple regulation logistics to get Bella  safe and ready for excited Peeps and Paws along with being able to market the actual tour dates with confidence. This limited lead time has an impact to our marketing schedule and as such, some tours are 'light on numbers'  which means we cannot meet our venue requirements and operate the tours profitably.
We certainly understand that when you make a booking, circumstances can change and you may need to transfer to an alternative date. To make sure we can support our venues, team and other guests we have a 2 week notice period to request the transfer.  Without this notice, we are placing unnecessary stress on venues by affecting their other bookings and operations. If a transfer is requested within 2 weeks and there are insufficient remaining bookings for the tour to proceed, this affects other guests and our team. We will always endeavour to accommodate transfers however there is a flow on affect which we need to manage as a business.  There is an administration cost to us to transfer and in some cases a cancellation fee from venues which is why we have a transfer fee of $50 per booking to make a transfer within 2 weeks.  Transferring a booking actually means we need to re-do our administration all over again.
Currently, our paws are in overdrive, to check that no one attending has been to a Covid case location, as we really do take our responsibility to operate seriously. We don't want to just hope it will be OK, we want to be proactive.  The Getting Ready For Your Tour email is sent out about 3 days prior to the date and in this email there is all the information you need about location, arrival time, what to bring and now includes asking you to review the latest list of case locations and confirm to us you have not been to any of these places. We thank you for reading this email and helping us prepare for a fun day out.
We love our job, love bringing you Dog Friendly Experiences and we also love a good chat, so get in touch if you have any questions.
We look forward to welcoming back our loyal guests and meeting our first timers in 2021 and hope that explaining a little of what we do behind the scenes to create a special day for you and your dog, makes a bit more sense as to the challenges many small businesses are facing for the foreseeable future.
Paws Out from the GP Team