Need a new place to explore pooch friends? Williamstown and Newport, the inner West of Melbourne – my home town has so much to offer. Hi I am Diesel, Chief Paw Officer of Gourmet Pawprints and I would like to share my favourite haunts with you.
I have designed with a little help from Mumma and the team a very unique Doggy Walking Tour with a 5km easy grade guided stroll taking in the rich history of this area, some spooky ghost stories and sights dating back many millions of years plus loads of excellent sniffing time. I am very excited when you my furry friends come on these tours and I even translate for you because we have our own special signals (ask about learning about our language HERE) – Mumma says I am being a chatty fellow, I just think you need to know about the area too, so all part of my service.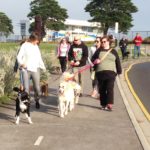 From celebrating the original land owners to understanding more about convict heritage, rest assured all my friends will be sniffing their way through a special part of Victorian history. These tours run every month on a Saturday morning and we get the Ferry from St Kilda and then have include a fish and chip lunch by the foreshore from the pawfect team at Williamstown Mussels.  I even get to try their tasty chips while I rest my weary paws (and voice!!) and just watch all the maritime activity go by.  Bookings can be made HERE.
As a local pooch, I have several cool places to visit in my dog friendly village style home. Here are some of my favs.
I often stroll down to Heart of Hall and happily hangout patiently waiting for pats while Mumma grabs a coffee. The best bit is when we head down to Newport Park to take in the sea air and some off leash romping! Please bring my frisbee Mumma, it is my bestie toy ever. Sometimes I have to visit the folks at Hobsons Bay Vet – and I confess I am not the bravest Kelpie in the free world but they always make me so welcome with treats and pats! Forget the other stuff -Mumma says it is important to keep me Happy, Healthy and Safe – what ever!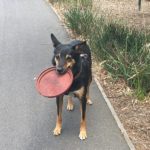 After my Doggy Walking Tour, I find chilling out over a cocktail (OK that is Mumma – I still prefer water) at Sebastians Bar and Grill on their doggy friendly deck which is right on the beach oh the wonderful smells!
Yep that all important  woof of "I have been a good boy"  and off we go to visit Dog Town Pet Supplies in Ferguson Street or Rhuarch's on Melbourne Road for what can only be described as the best dog 'lolly' shops in the West.
Now as much as I enjoy wandering around my local area saying Hello to all the paws, I really do enjoy my 'school friends' too and just cannot stop smiling when I hear the 'school bus' from Hairy Hounds Playgound Doggy Day Care Centre, with my special valet pick up. I have even been on a school camp and a school excursion – yep I am one lucky puppy, I just call it being a good social pup. Did I mention they have treats and cuddles for me too?
Well that is it for me, my first blog celebrating my local area of Williamstown and Newport, come and visit soon.